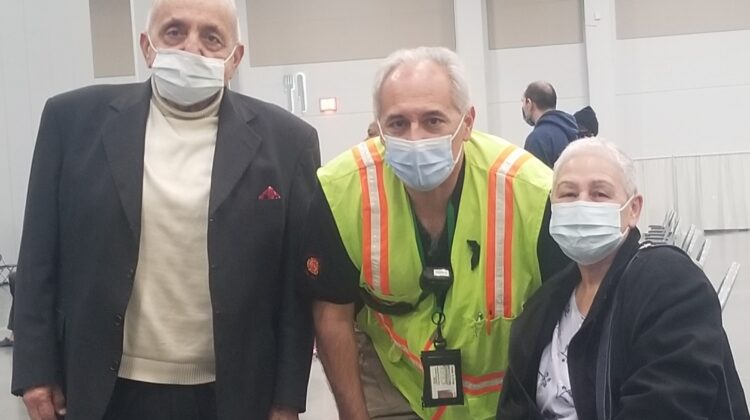 Volunteer Week celebrated at C5
C5 Team Member volunteers at COVID vaccination site
It's National Volunteer Week – where are you spending your time?
For C5 Merchant Solution's accounting manager, Myron Nahra, he is spending his time helping his community get the COVID-19 vaccination.
National Volunteer week, April 18-24 celebrates the act of volunteering and shines a light on the people and causes that inspire us to serve.
Nahra volunteers three days a week at the Virginia Beach Convention Center with the Virginia Beach Community Emergency Response Team to help usher citizens through the vaccination clinic.
"COVID-19 has affected everyone, and it feels good to help those who want to get vaccinated," Nahra said.
Nahra is in charge of the traffic flow of the individuals going through the clinic. Basically, he says he helps people make it from the front door, onto registration and to the vaccination floor. In addition, he helps answer any questions people may have. 
"I can see how scared some of the people are who come in," he said, "and  I try to get their mind off the fact they are about to get poked in the arm."
Nahra says he helps folks by telling them a joke or asking about their day.
"We want everyone relaxed when they get their shot, and I'm just doing my part with that effort" he added. "Every day I'm there volunteering, at least one person says or does something that make it all worthwhile."
Volunteering is a Way of Life
Nahra has been volunteering in the Hampton Roads community for nearly four decades.
"It's nice to write a check, but it's more rewarding to give of your time to a cause," he said. "It makes an impact for everyone involved."
Nahra, an accountant since 1985, and part of the C5 team since its inception, says he will continue to volunteer as much as time allows. With tax season in full swing, it's hard, but he is making it work.
"Myron is a pillar in our community," said Shannon Kane, CEO of C5 Merchant Solutions. "We are lucky to have him as part of our team, and he is a shining example of how we hope to help our community."
C5 Merchant Solutions is a broker of credit card processing services, providing best in class payment solutions to businesses of all sizes. The company's focus is on the customer first and foremost because "at C5 Relationships Matter," Kane says. C5 also has direct community involvement, encouraging employees to volunteer.